I blogged about what was billed as a big business event in London headlined by some serious speakers like Sir Richard Branson and Lord Sugar… because it was not what it said on the tin… the response was astonishing, over 1100 hits overnight and 30 comments registered.  So why was it so powerful?
Well naturally I don't just blog it and leave it at that, I also add it to twitter, facebook and linkedin and even created a follow up youtube video of how to turn a negative in to a positive.  If you look at the pic below of when it hit google you will see it is the LinkedIn one which ranked first…  I only have some 2,500 followers on twitter but obviously they are connected to others who happily shared the blog worldwide.  This happened because I used the hashtag for the event and maybe the title I chose caught the imagination… a celebrity is always a good draw.  By using the hashtag #biz2012 everyone at the event or following it could see what was going on.
Now sadly for the event it had gone very badly wrong and there were a long list of mistakes which prompted a whole host of responses… remember if people are unhappy they will share with more than those who love something and online that is magnified big time. By writing my personal account of the event I had more space to tell the story and also give people the right to reply.  I reported exactly what I felt at the time and posted it.  Then I tweeted it out to my main accounts and scheduled it via Posterous to hit again at my next peak time for readers in the morning.  The reach of the internet is actually pretty amazing and the content stays there..
Within 6 hours over 1,000 people had seen the blog and thousands more the tweets and it had been shared at least 50 times on twitter, over 30 comments are on the blog and many people who hadn't been to the event were thinking whether or not they would bother.  People with big networks and huge influence were agreeing with the opinion and sharing it.  Within 16 hours it is page 1 of Google for the hashtag… and trending on twitter…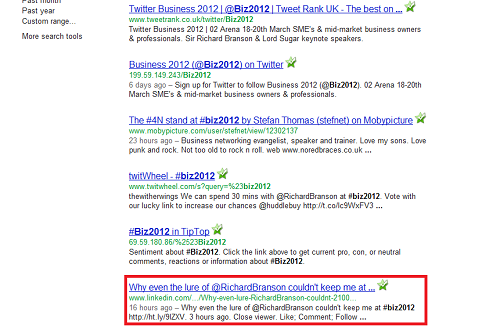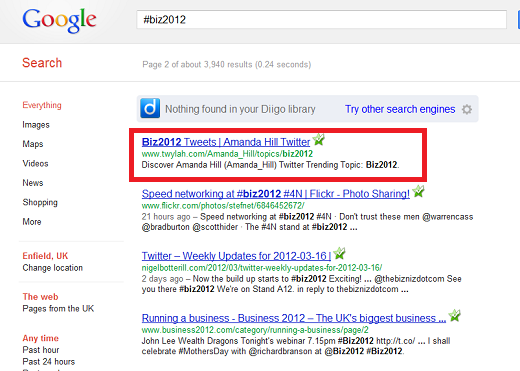 Whether you are listening or not (and I sincerely hope you are at the very least using Google Alerts) your audience will be talking about you, and sharing their experience… especially if they are bad.  Harness the power for yourself and get involved and if something goes wrong… publicly share how you are trying to resolve it.. do not ignore comments and brush them under the carpet… they will not go away and a determined blogger will amplify the issues even more..
Now this event has a huge amount to learn and hopefully this will help create a better experience next time… and by sharing things we are creating a whole new world of what we want to see, hear feel, buy and even experience.  Whether we like it or not we all have influence… it may be on style, colour, shops or just our choice of places to eat and that is very powerful, in fact the like button on facebook is so incredibly powerful because of that.  By using the facebook plugin on your blog you open it up to the peer factor… that is the old fashioned "well if it is good enough for xxxx it is good enough for me" or even better they see their competition or someone the trust or admire liking something… This is very powerful.
By blogging you are sharing with the world and engaging with them, you are also showing your areas of expertise and making yourself the person people recommend or go to first in your world so why not get started and showcase what you do?  You can start by being a guest blogger on someone's site and get them to help you get started… around 500 words should do it.  We'd love to hear about your wins.. why not share them below…